Alchemy
Empathy is a universal solvent.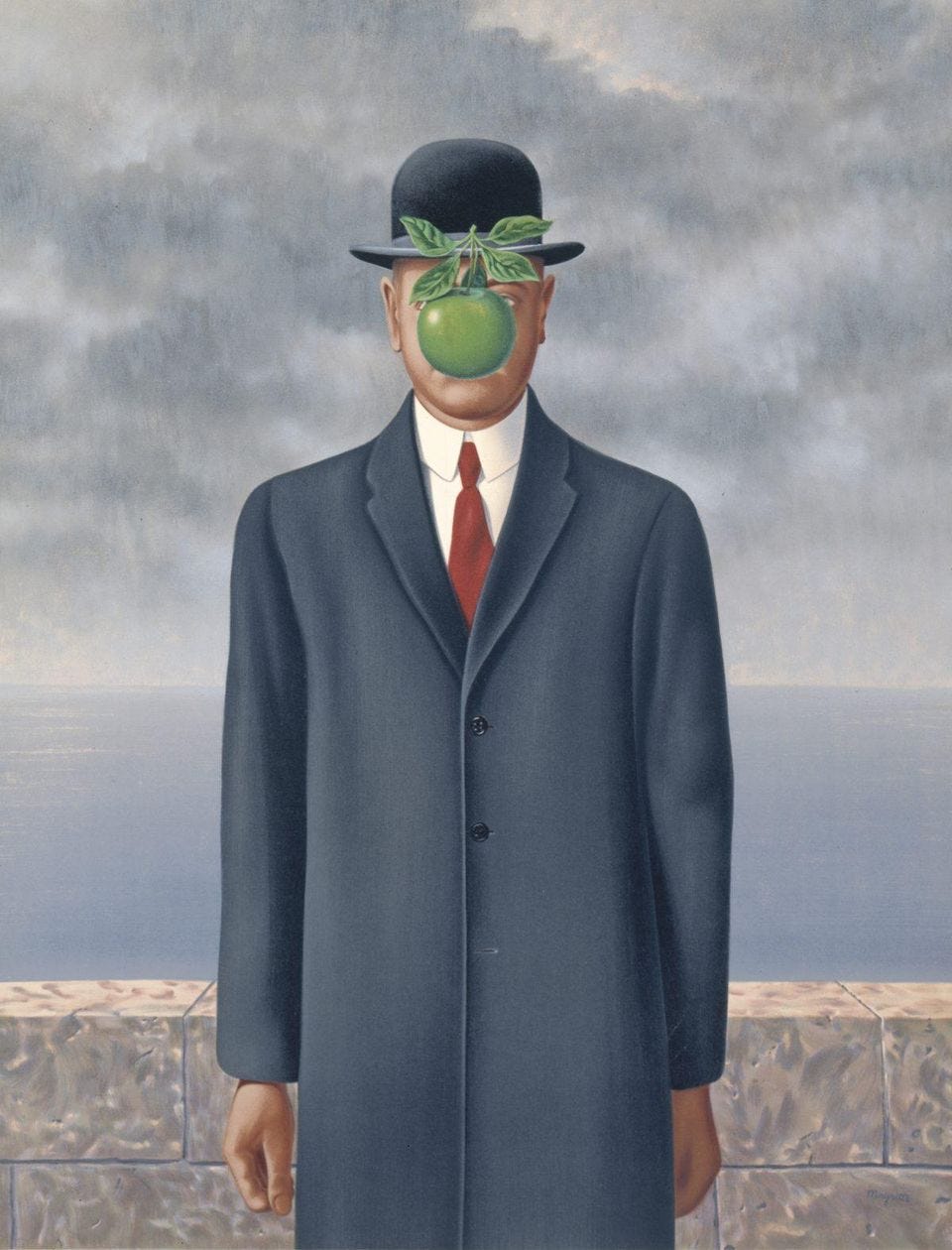 Son of Man (1964) by René Magritte
What do you lose by sticking your neck out? It's easy to imagine vulnerability and radical honesty are weaknesses that will lead to great loss, since the defenders of straight lines and hierarchies and the status quo are everywhere, ready to raise a barricade against any energy or elixir volatile enough to threaten all systems, near and far. But maybe you weren't dangerous at all, just curious. Maybe you just wanted to fill in some gaps in your understanding of the world. Maybe you woke up on an unfamiliar plane of existence and instead of trying to get home you meandered, communing with giggling straw men, musing about rainbows, rolling your eyes at temperamental apple trees.
The curious and the vulnerable look dangerous to those with nothing but apples to defend. "Please don't ask questions," they'll tell you. "Talk less. Pretend to dwell inside boxes within boxes, locked in safes, surrounded by high walls, like I do. Otherwise I might consider the existence of other worlds. Otherwise I might grow an imagination. Otherwise I might succumb to chaos."
That doesn't mean their apples are full of worms. Respect the humble farmer who refuses to migrate. Respect how many things he can grow that you can't, because you'd rather wander through dark forests with strangers, skipping and singing cheerful songs like you've known each other for life.
And when you get to the Emerald City, remember that you didn't lose anything along the way. Don't let your curiosity encourage you to long to become something you're not. Be what you are.
Because you own the magic, motherfucker. Most people don't even care about owning magic. Most people don't even care about feeling things, soaking in sadness and glory until their skin sparkles. Most people don't care to look up at the sky, or feel its weight pressing on them. Most people don't stop in the middle of the sidewalk to take a picture of the clouds parting and sunshine streaming out, and wonder if some mysterious god is peeking down to say, "KEEP PAYING ATTENTION, LITTLE AMOEBA." Don't let your reflexive regret tell you that your porous boundaries are something to be ashamed of. You can eat the world, can't you? Doesn't it make you stronger and more robust, now that you're not afraid?
Respect other people's rigid walls but relish your own liquid ardor. Are you a Roman or a migrant barbarian? Are you a bureaucrat or an artist? Are you a fishwife or a sea witch? Are you a scarecrow or an angry tree or a humble farmer or a little girl who whiles away the hours, daydreaming about some vibrant world that lives beyond the rainbow?
Be what you are.