Marriage: FAQ
Nobody wanted this.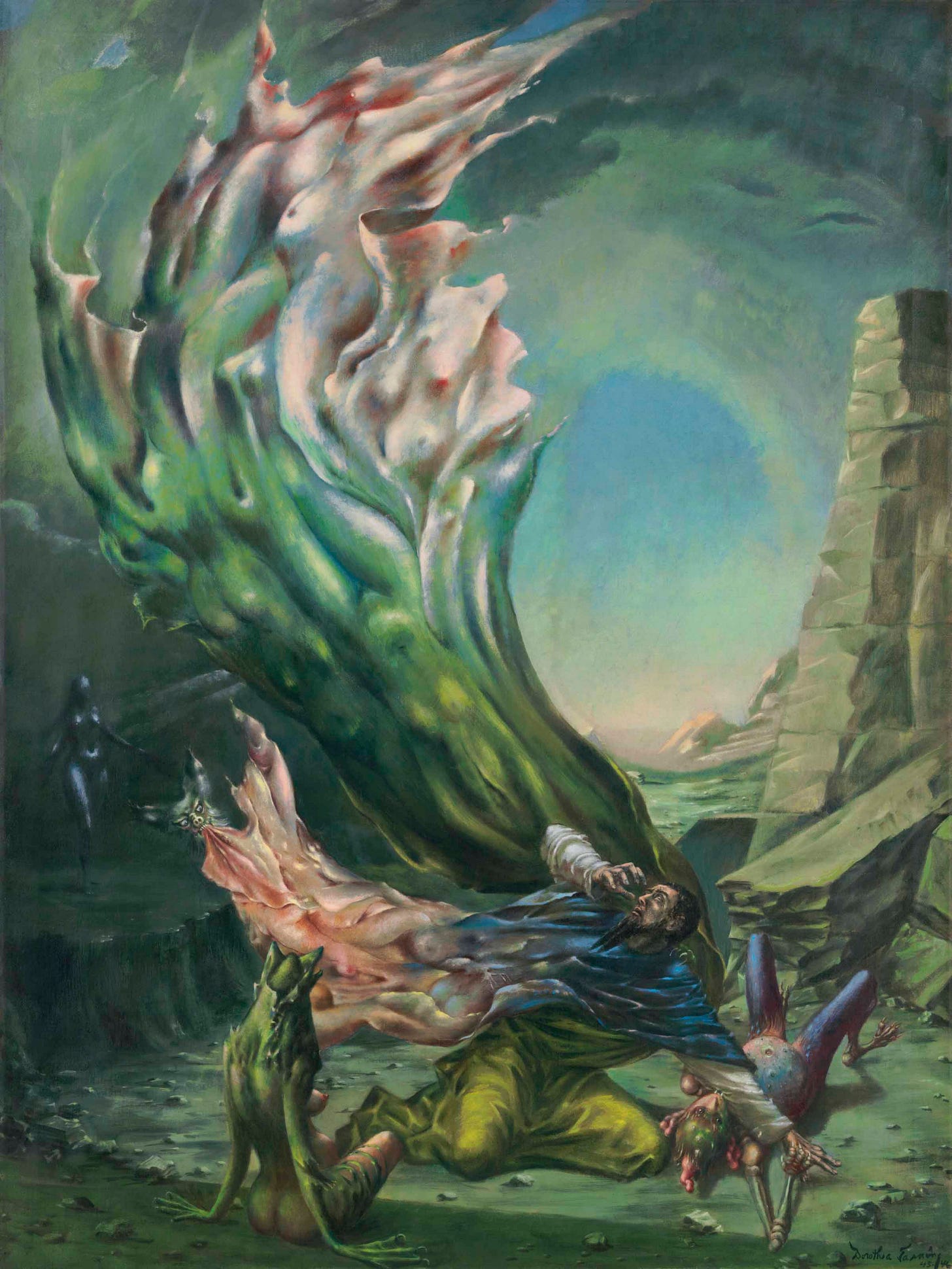 The Temptation of St. Anthony by Dorothea Tanning (1946)
Q: Is it healthy to stay married forever?
A: No! Marriage is an abomination that high-level capitalist tricksters have used to keep women bound, gagged, and trussed up in uncomfortable push-up bras for the length of their days on the planet. Actually, uncomfortable push-up bras are pretty great. I like them now. But marriage is total bullshit.
---
Q: What is good about marriage?
A: Almost nothing! Who wants to sleep inches away from the same smelly human every night (like a common criminal) until you're dead? I keep saying this and I feel like no one is listening, least of all the horrid old motherfucker who seems to be inches away from me at all times, even during daylight hours!
On the other hand, my husband is at this moment driving my daughter to get her allergy shots across town. When he gets back, I will be showering for my dinner with a friend tonight. Around the time he is fetching some form of dinner for our girls, I'll be stuffing my incredible tits into an uncomfortable push-up bra and then leaving the house in order to drink a gin cocktail with my delightful friend, who likes to tell me tall tales about her open marriage, a form of marrying that is reputedly far less awful than the more restrictive style of uncomfortably traditional marriage that I am pushed up into at the moment. With an open marriage, you get to be fucking new men regularly! It sounds incredible, truly!
---
Q: What is terrible about marriage?
A: When I come home from my dinner tonight, sated by fine conversation with my whip smart friend and soothed by a couple of gin cocktails, I am likely to find that my girls are in bed (this is not a metaphor for my amazing tits resting in their very pushed-up bra, here I am talking about my actual daughters). My husband, who has fed the children and dogs, loaded the dishwasher, and tidied up, will be just tired enough to be pushed up into various vigorous sexing acts. Same old shit! And yet, there he is, pliant and willing. Why not, right? Oh well, ho hum. Pretty awful. Then I'll put my girls to bed (now I'm talking about my tits) and go to sleep.
---
Q: Marriage does not sound so terrible at all, in fact.
A: Oh, but it is so terrible! For if I desire to, say, engage in vigorous sex acts with someone BRAND NEW because after all THE PLANET IS DYING, guess what? I cannot do so without getting actual verbal permission from my spouse! How degrading and archaic!
---
Q: Will your husband give you actual permission to have sex with other people?
A: I am very much hoping that he will! He says he won't but I am very, very much hoping that he changes his mind! He says it's "my choice," with this ridiculous resigned sigh ("Please don't make unnecessary noises using your face!" I always tell him) but he would vastly prefer that I not have sex with anyone else. He says "Don't we have enough sex already?" The answer is yes, we do, but wouldn't it be even better to have even more sex with people one is much less married to and therefore barely knows at all? The answer is yes, of course, it is better, much much much much much much much much much better.
Maybe as his mind grows more feeble, he will become more open to brand new ideas about letting his wife fuck whomever she pleases, whenever she pleases. Fingers crossed!
---
Q: What else do you think will happen when your husband gets very old and is less vital and pliant?
A: I am so pleased that you asked this question, because I ponder it often! As far as I can discern, my husband is likely to decay rapidly. He has always been absentminded (very professorial of him!) and he has exceedingly bad knees. I'm optimistic I can hire some kind of an orderly to wheel my husband around the house and spoon chocolate pudding with crushed-up pills into his mouth and so forth, freeing up my time for thinking big thoughts and writing little ditties on my guitar and whatnot.
Occasionally, the orderly will wheel my husband into a walk-in closet or storage area and then we can have some sex (me and the orderly, not me and my husband) and then we can go somewhere fun like a piano bar or a salsa club or SPAIN, and after that, of course, we'll have lots more sex, athletic-style sex preferably. Or maybe we'll have the slow type of sex. We'll fuck meaningfully. I can't decide. Maybe first with meaning and feeling, and then later…
Anyway suffice it to say, I am very much looking forward to my golden years with my dear husband. Marriage is very satisfying during one's golden years!
---
Q: Why are you still married if you hate it so much?
A: Who said I hated marriage? It is a widely-known fact that marriage is hopelessly dull and utterly inhumane, but if I were to divorce my actual husband, there would be no one here to feed my girls (here I mean my daughters) when I go out to dinner with friends, and there would be no pliant male in my bed to feed my girls (here I mean my tits) upon returning from dinner, and there would be no university pension dollars to pay for my sexy orderly (who will also be a trained masseuse and will sing all of Cole Porter's greatest tunes in the finest baritone) (and who will also be a chef of some sort) (and a therapist) (he will write poems, too) (he'll always have good weed on his person) (I love him so much already!).
Without marriage I would while away my days in a cramped, cluttered apartment, microwaving frozen foods and watching Real Housewives marathons with my girls (my daughters and my tits, all four of them).
Marriage is horrifying and I strongly recommend it!
---
A few weeks ago, my boring twat of a twin wrote about nurturing restless desires without being consumed by shame and then she wrote about how sometimes we all want to do the exact opposite of what's best for us and last week she wrote about how replacing your shame with curiosity fixes everything. She's not a complete idiot but you should still write to me instead: askmolly@protonmail.com.