Soft
Surrender to uncertainty.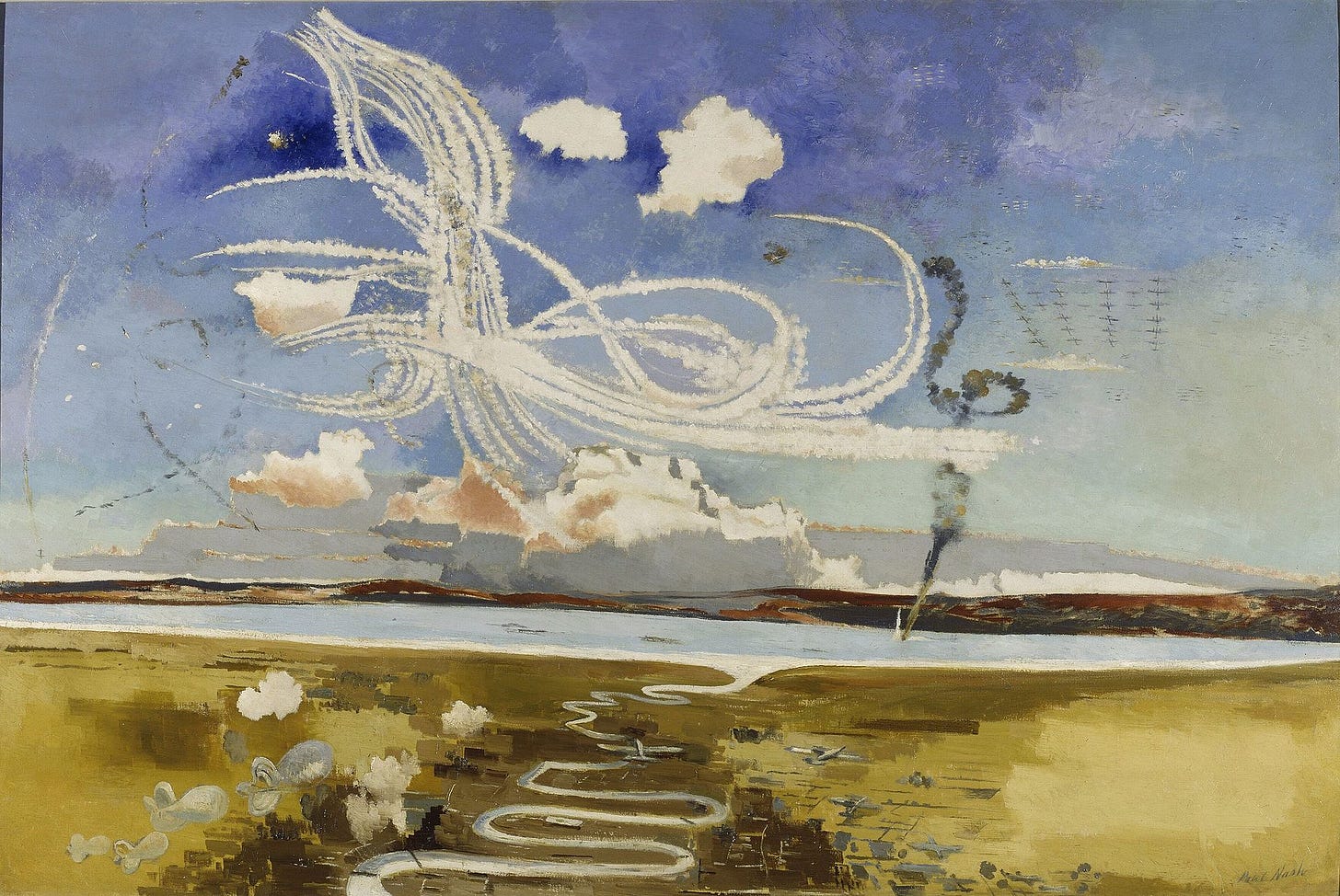 Battle of Britain (1941) by Paul Nash
I know you're feeling helpless. Be patient. Celebrate what you can do. It doesn't matter that you learned to swim when you were drowning. Just swim and enjoy it. Don't tell stories about stronger swimmers. Don't say your best stroke formed out of desperation. When someone says you're good at this, don't convince them that you're the worst at literally everything else.
All skills have costs. We're all specialists. Nobody gets it all right.
You can't be everything to everyone. You can't get better until you're perfect. Don't mold yourself into the exact shape that someone requested on a whim. What shapes do you love? You get to choose.
And what if you're empty? Then be empty.
And what if you're broken? Then be broken.
Savor your broken pieces. Build a temple out of busted tea kettles and rusted valves and unraveling springs, twisting like flower stems toward the sun. No one can rise above the junkyard under their skin. Enjoy this stillness. Watch and wait.
Twist this wire into a monkey and let the monkey raise your babies. Sometimes a wire monkey is the best mother. Sometimes pointy edges show a baby how soft he is. Knowing how pliable you are is a kind of blessing. Sing praises to your fragile hands. Raise your flimsy arms to the ceiling, to thank the lords of the lab, to celebrate the whimsical lessons handed down to you under these unforgiving neon lights, by this brutal universe. Honor your insignificant spot in this merciless celestial Petri dish. Welcome the delicate terrors of each uncertain experiment.
Caress this wire lovingly. Maybe you'd get terry cloth if they had enough of it, but honestly, it's better this way. Now you'll feel the thrill of a shiver. Now you'll understand the desperate pleasure of being utterly alone.
Everyone I love deeply was raised this way. A ragged wire reminds you how many soft universes live inside your liquid cells. A chilly draft reminds you that you'll have to keep moving to stay warm. A kind of faith builds around the knowledge that no one is coming to save you. That knowledge is power. You'll have to save yourself. This wire twists into a barbed barricade. This solitary mind can create affectionate textiles from nothing. This fragile heart is lined with the finest fabrics money can't buy, and the whole world can fit inside.
Take the whole world in, a clumsy backstroke gliding to the shore, thrilling to behold, an awkward leisurely path through rip tides, over the undertow, pretty enough to bring tears to the eyes of old surfers on the beach. They can't look away from your broken limbs, even when they see black smoke rising on the horizon. This cracked bottle has a genie inside of it, perched on plush purple cushions. At first you'll find her foolish. She'll laugh awkwardly at all of your jokes, then cut your legs out from under you with a twitch of her ponytail. No one ever came to save her. She wants you to feel that. She built everything she has from nothing. You couldn't do that even if you tried.
So celebrate what you can do instead.
The heartbroken are dressed in black today. If all you see are criminals, then you've never learned to mourn. If all you see are strangers storming the barbed barricades, then you've never befriended cold wire out of necessity. If all you see is ragged, self-pitying chaos, then this window is a mirror. Put down your shield, lie down on the hot pavement, lie down on the crowded street, lie down among the bereaved, lie down among those who spend every single day mourning a life without soft, hidden, magical spaces, no secret hideout safe enough, no one to call if you're in trouble, saviors coming to erase you instead, erase you and laugh about it, erase you and keep erasing.
Can you even imagine? If you can't imagine a thing, then mourn that. Lie down among these soft-hearted strangers, and make peace with what you are.
---
Heather Havrilesky is the author of the essay collection What If This Were Enough?, which was a Publisher's Weekly Best Book of 2018. You can read Heather's Ask Polly column on New York's The Cut, where it's published every other Wednesday. The other Wednesdays, Ask Polly lives over here, so sign up, it's free. Give your $ to the NAACP instead.