There's a new Ask Polly newsletter.
More advice, less apocalyptic musing.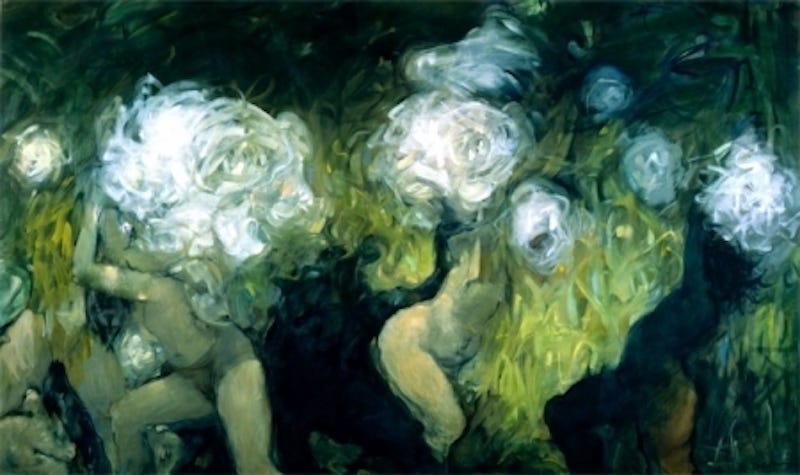 On Avalon (1987) by Dorothea Tanning
Big change!
Ask Polly is shifting from a weekly to a every-other-week schedule on New York magazine's The Cut, as dictated by California's new freelance laws. My sister will not join the staff of New York because she's headstrong and also a huge pain in the ass in general. But she still loves New York and she'll still write Ask Polly for The Cut every other Wednesday because it's her favorite thing to do. SNORE.
Polly says her new newsletter will include standalone posts on subjects like power and shame and loss (I'M FULLY ASLEEP NOW). There'll be some advice, too, because writing Ask Polly twice a month is not nearly enough for her. (Can you imagine growing up in the same house with such a tedious little mollusk?) There will also be community threads where Polly fans can hold hands and weep openly over how much healing they're doing together. Knock yourselves out, hippies.
The Ask Polly newsletter will be free. There will be occasional premium posts for paying subscribers, but come on, Polly writes too many words as it is. Just sign up for free Ask Polly newsletter right now and rest assured that Polly will serve up enough new musings about the flowering of self-trust or whatever to fill in the gaps on the off weeks.
Now if you do subscribe to both Ask Polly and Ask Molly, that makes you an Honorary Evil Twin, which means you'll get extra perks and and shit that Polly and I will dream up later when I'm less stoned. Off the top of my head, I'll send a signed copy of my book What If This Were Enough to the first 30 people who email me (askmolly@protonmail.com) attesting to their Polly and Molly full-year subscriptions. Wow, I just did that! But mostly because I need to get rid of this box of books so I have more room for quarantine Girl Scout cookies. If we do have a quarantine, I'll make laminated, numbered Honorary Evil Twin cards. I'll also probably start a sex cam. Maybe a TikTok sex cam? Is there a porn version of TikTok? DikDok?
Ask Molly will continue in its current twisted form, but most of the posts will be subscriber-only. Ask Polly is a nice alternative for those days when you don't want to hear a single word about how amazing my tits are. I just want you to know from the bottom of my heart that my tits truly are so fucking incredible. I would post a photo of them right here and now if I could guarantee that Martin Shkreli would never see them. But I can't. Too bad!
I've had a very strange and hilarious and rough and delicious year so far, and I'm grateful to every single deeply corrupt, dirty-hot one of you. Thank you for being here.
Molly
---
Sign up for the new Ask Polly newsletter right now! Send Honorary Twin submissions to askmolly@protonmail.com.